Hugh Buttsworth: Storyteller/Filmmaker/Writer/Director
Hello, I am Hugh Buttsworth. Thanks for dropping by. If I tell you a little about my story, perhaps you'll want me to tell your story.
"I've always loved movies with good stories. In 2002 with a blinding flash of the obvious, I came to the realisation that I must become a filmmaker. Immediately I left my secure yet uninspiring day job to enrol in Film School. Story became my passion as I began writing screenplays, directing short films and editing the video footage to narrative." – Hugh Buttsworth (Filmmaker)
Timeline
2002 I was given a support grant to create a music video for the WA Music Industry song of the year for band Red Jezebel.
2003 I graduated with high distinctions and continued to take additional courses in screenwriting and animation.
First independent short film production Under The Skin (2004) was shortlisted for the Eyescream Horror Film Festival.
Second independent short film production Within Security (2005) was awarded funding by the Australian Film Commission.
My third independent short film production The Hacker (2006) was shortlisted for the Tropfest Film Festival, and toured Australia with the "Best of the Rest".
Short films Under The Skin and The Hacker achieved nominations for WA Screen Awards in Special Visual Effects Makeup for a truly inspiration friend and creative artist Jemma Bartlett over two consecutive years.
After filming Jemma's wedding, I came to the realisation that filming events is another great way to tell stories.
Weddings!
Weddings have all the aspects of a full-on movie production! They have hairstyling, makeup, costume, cameras, lighting, set design, catering, extras, crew, locations, preproduction, post production, and above all… Story!
2008 The standard wedding video was still frowned on as the poor cousin to the wedding photograph. Wanting the look that stills camera lenses were able to achieve, I began shooting predominantly with the video mode of a Canon DSLR with wonderful lenses.
2009 I created a theatrical trailer for Stellar Visions and won a Silver WEVA International Award for it. At this stage my whole team was shooting with DSLRs and other local companies began to follow suit.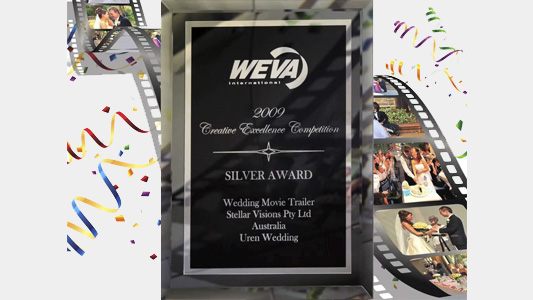 2010 Was honoured the role as Director of Photography and editor for international filmmaker Adam Harvey for his funded yet highly ambitious film Minor Head Injury. We filmed scenes very quickly and I realised then how much shooting wedding videos had improved our skills.
2013 Wrote and published an interactive book Wedding Video Production on iTunes.
2014 Began shooting concert stills for a music publication. Having a musical background from playing onstage locally, I find it very satisfying. I also draw inspiration from my rockstar days when creating music videos for my customers and promotion.
2015 Filmed and edited three short independent films. Inheritance, Brown Paper Packages, and The Vampire Awakens for Director J.R.L. Jones.
2016 Filmed and edited self-penned short film Synchronism. Filmed and edited A Shadow's Dance and Don't Play In The Catnip for Director J.R.L. Jones.
2017 Post production of Synchronism, A Shadow's Dance and Don't Play In The Catnip concludes. Shooting and editing ghost story Come to Me commences at Faversham House in York for Wedge Tales. Shot and cut Legendary as our submission to the 60 Hour Film Challenge for team Wedge Tales. I continue covering weddings because I still love them. Legendary makes the shortlist in the Colchester Film Festival for films made in the 60 Hour Film Challenge.
This is me: I am a storyteller with a lens.